Dopo l'incredibile successo della hit estiva Don't You Worry con David Guetta e Shakira, i Black Eyed Peas tornano con il nuovo irresistibile singolo SIMPLY THE BEST insieme ad Anitta & El Alfa.
Leggi l'articolo per scoprirne di più!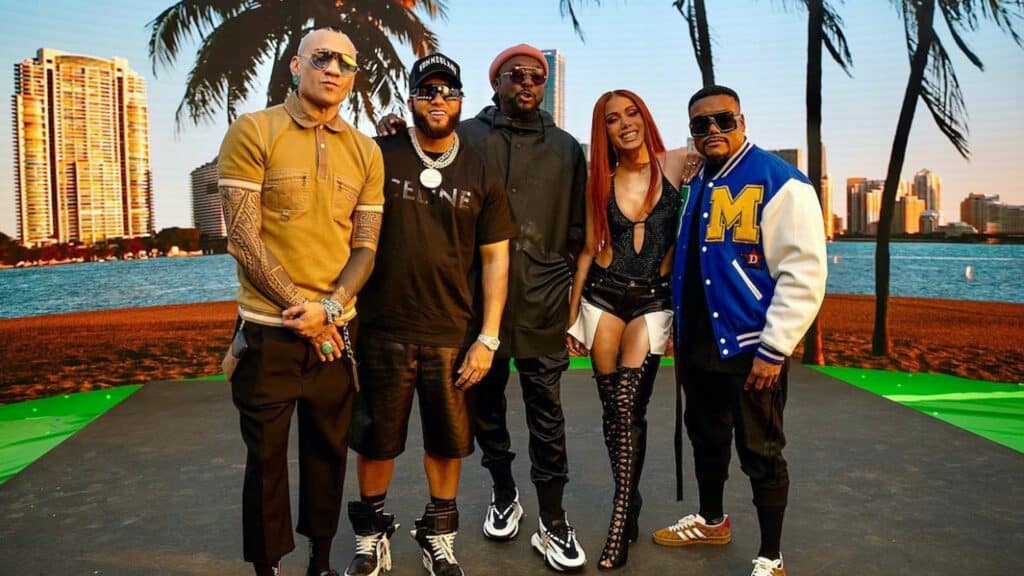 Un gruppo di star indiscusse è la mente dietro il progetto SIMPLY THE BEST: dagli iconici hitmaker Black Eyed Peas, guidati da will.i.am, alla vulcanica artista brasiliana Anitta, passando per il rapper e musicista dominicano El Alfa.
Gli artisti hanno annunciato nelle scorse ore l'arrivo del brano attraverso un post sui loro profili Instagram.
Simply The Best è il brano che anticipa l'attesissimo nuovo album dei Black Eyed Peas, che sarà rilasciato l'11 novembre e di cui è stata già svelata la tracklist.
S'intitolerà "Elevation" e conterrà 15 tracce realizzate in collaborazione con artisti del calibro di David Guetta, Ozuna, Nicky Jam.
Il testo di Simply The Best
Ah, yeah, check it you 
This is it, bet you won't, bet you won't 
That you will not forget it 
'Cause it won't get better than, better than this 
No, it don't get better than, better than this 
Ah, yeah 
This is it, bet you won't, bet you won't 
That you will not forget it 
'Cause it won't get better than, better than this 
No, it don't get better than, better than this
Simply the best, simply the best
Simply the best, simply the best
Simply the best, simply the best
Simply the best (Yo)
El dueño de la Tesla subió a Marte y no me ven ni por telescopio
Demasiado alto, a ninguno lo copio
Lo que lo' extraterrestre' están haciendo, yo lo copio
¿Te volviste loco? ¿Te fumaste un bate de opio?
Tiene' que respetar, leyenda' son leyenda'
Pida perdón, que su palabra e' que e' una mierda
Tremendo guaremate, teta' pa' aguacate
Dale una galleta a un general pa' que te mate
This shit right here, baby, this shit right here 
This that shit that I wanna hear 
This that hit, the hit of the year 
Got me livin' on a drop top tear 
Can't stop, won't stop, no fear
Make my drink disappear
Make the glass go clink-clink, cheers
We are about to break the la-la-la-law
After bottle, bottle, bo-bo
We gonna rump it with Anitta
I swear to Gog, I sweat to Allah
Esto, esto es lo mejor
Esto, esto es lo mejor
Esto, esto es lo mejor
Lo mejor, lo mejor, lo mejor, mira
Ah, yeah, check it you
This is it, bet you won't, bet you won't
That you will not forget it
'Cause it won't get better than, better than this
No, it don't get better than, better than this
Ah, yeah
This is it, bet you won't, bet you won't
That you will not forget it
'Cause it won't get better than, better than this
No, it don't get better than, better than this
Simply the best, simply the best
Simply the best, simply the best
Simply the best, simply the best
Simply the best, simply the best
Tú ere' un palo de fósforo moja'o, tú no prende'
Tu movie no se ve ni que la arrende
Un jefe de verdura' por dinero no se vende
Pa tú toca' un party tiene' que esperar diciembre
Diablo, qué maldita olla caliente, a presión, marca Royal
Yo tengo más grano' que una lata de guandule' de Goya
Que vengan to', que el alto los degolla
I want this and not nothing less
All that BS, put that to rest
I've been livin' life to the fullest, that's my definition of blessed
Like a tip, step to the left
Bring the tips, step to the left
I've been stepping right to the higher level, steppin' with giant steps
And if I fall la-la-la-la-la
I get up and keep standin' tall
I keep blockin' all of them haters like I'm Karim Abdul Jabar
You rockin' with the best, oh, yeah, for sure
We stay fresh, international
And if you don't know, we gon' let you know
Tell 'em em español
We say, "Esto es lo mejor"
Lo mejor, lo mejor, lo mejor, lo mejor, lo mejor, lo mejor, lo mejor, lo mejor, lo mejor, lo mejor, lo mejor, lo mejor, lo mejor, lo mejor, lo mejor, lo mejor, lo mejor, lo mejor, lo mejor, lo mejor, lo mejor, lo mejor, lo mejor, lo mejor, lo mejor, lo mejor, lo mejor, lo mejor, lo mejor, lo mejor, lo mejor
Mira
Ah, yeah, check it you
This is it, bet you won't, bet you won't
That you will not forget it
'Cause it won't get better than, better than this
No, it don't get better than, better than this
Ah, yeah
This is it, bet you won't, bet you won't
That you will not forget it
'Cause it won't get better than, better than this
No, it don't get better than, better than this
Simply the best, simply the best
Simply the best, simply the best
Simply the best, simply the best
Simply the best, simply the best